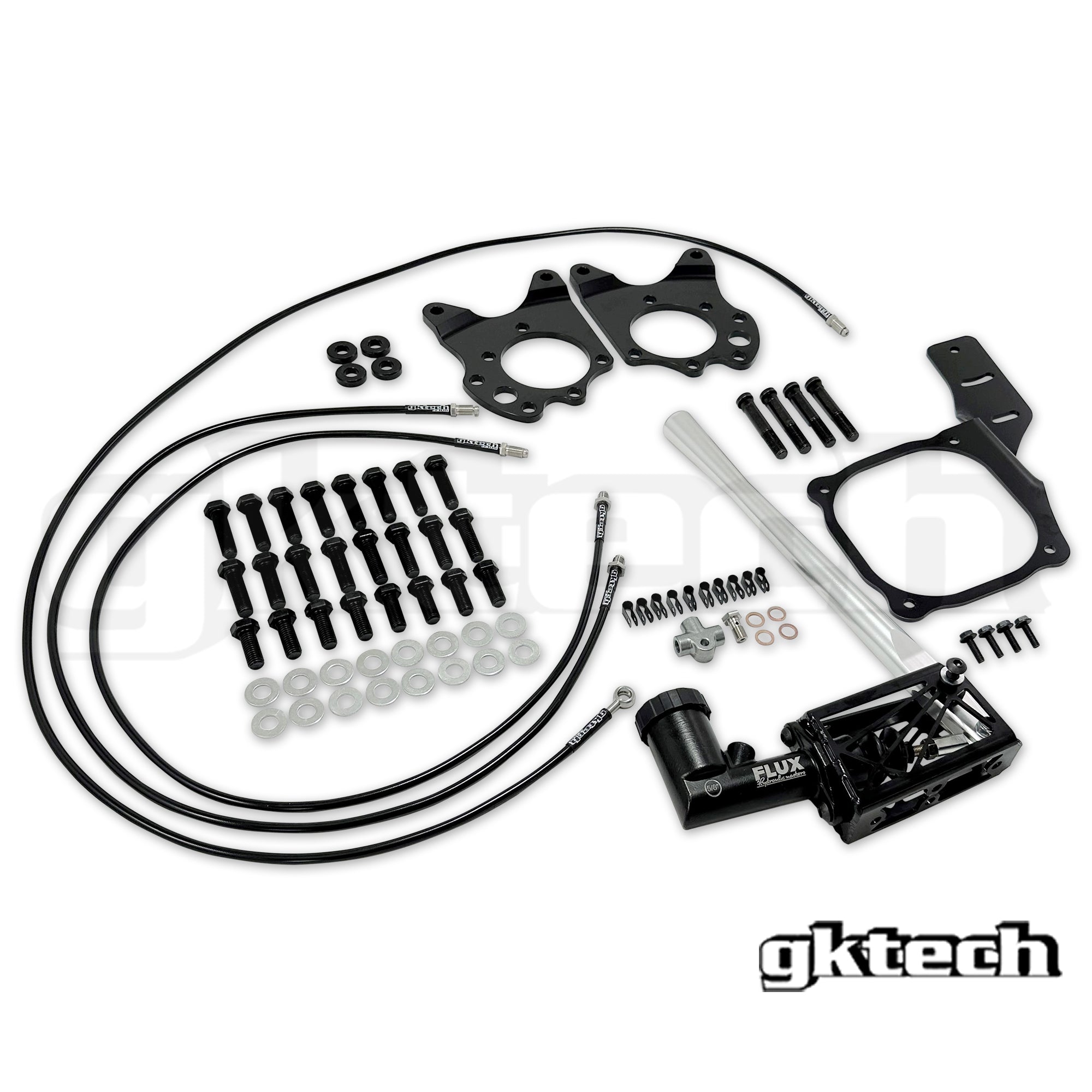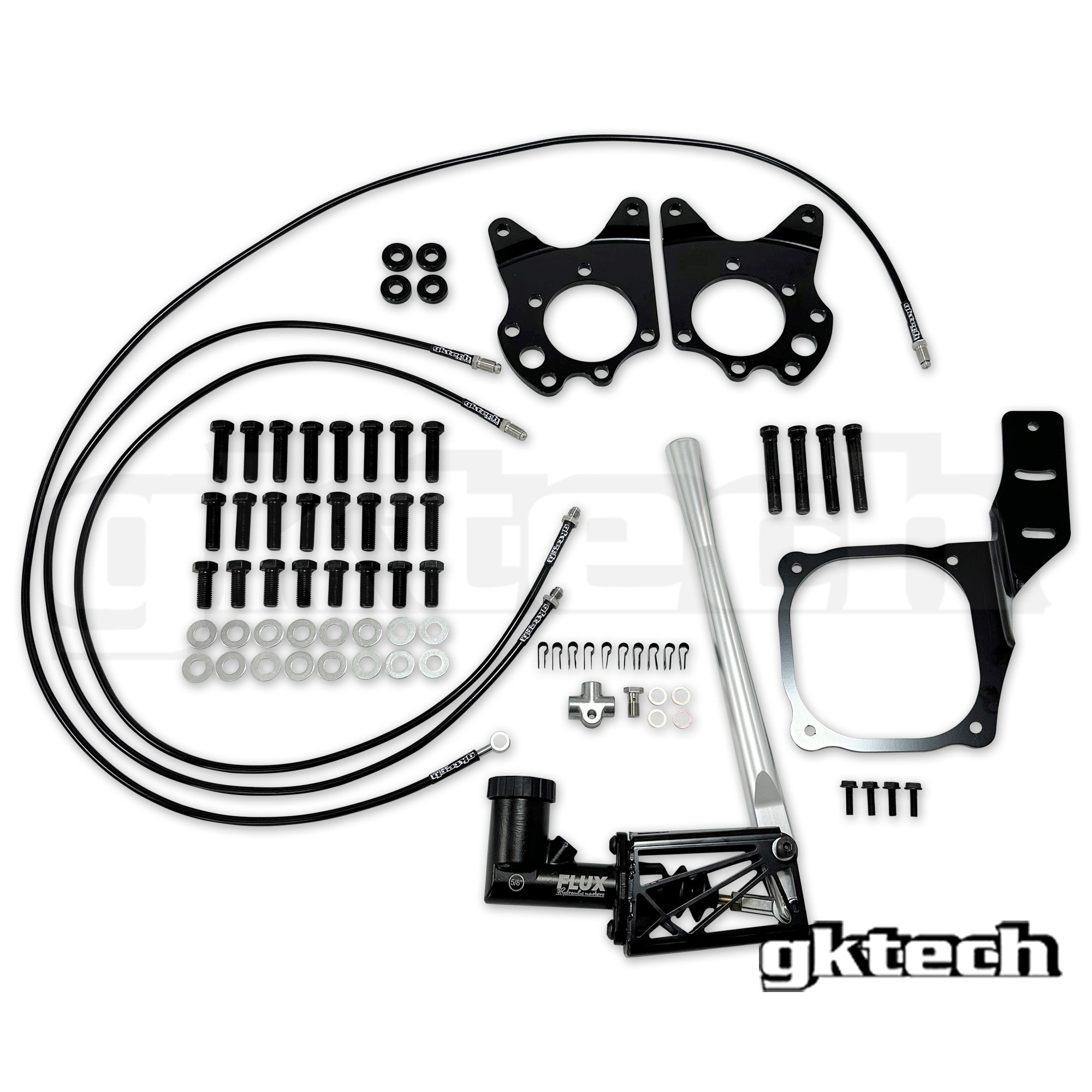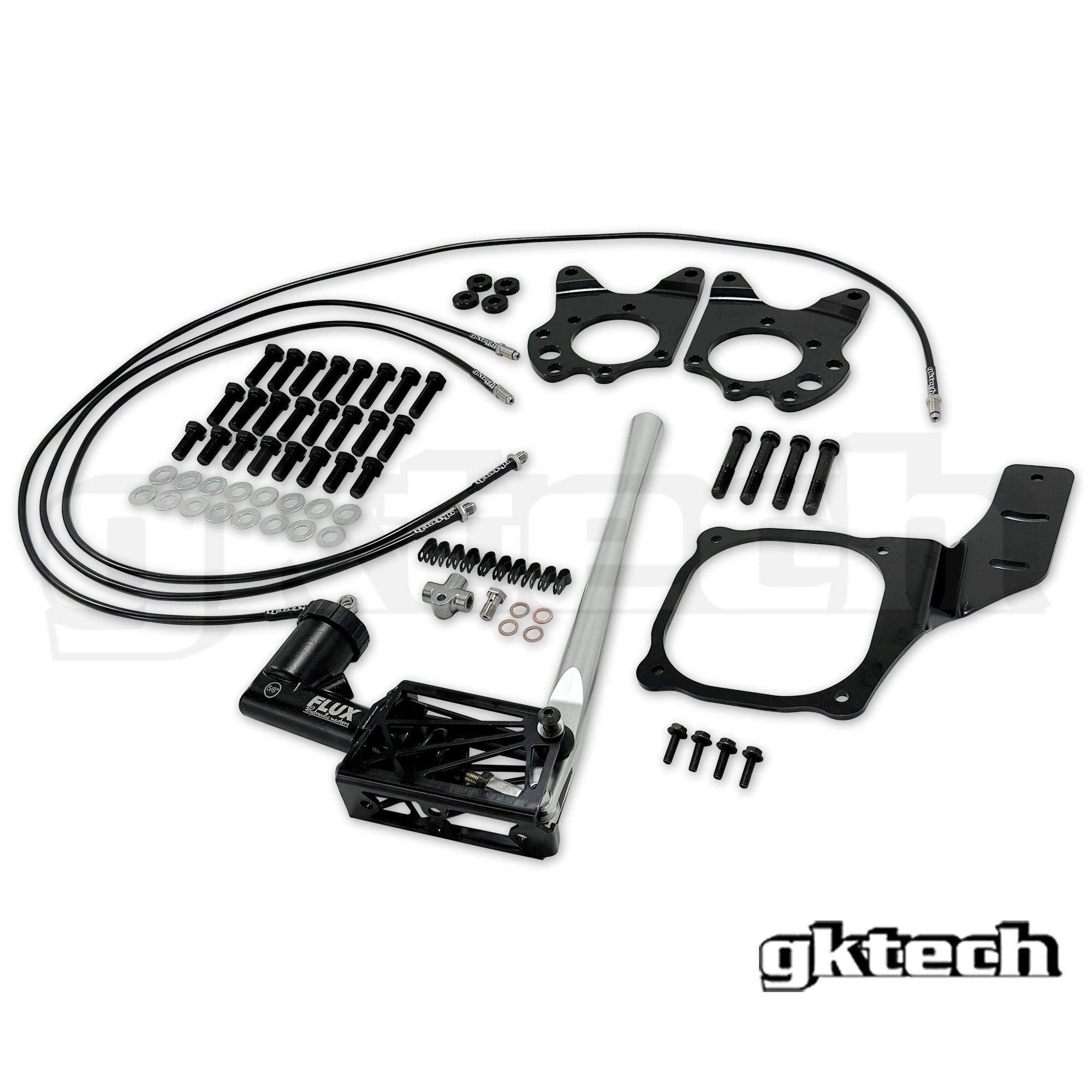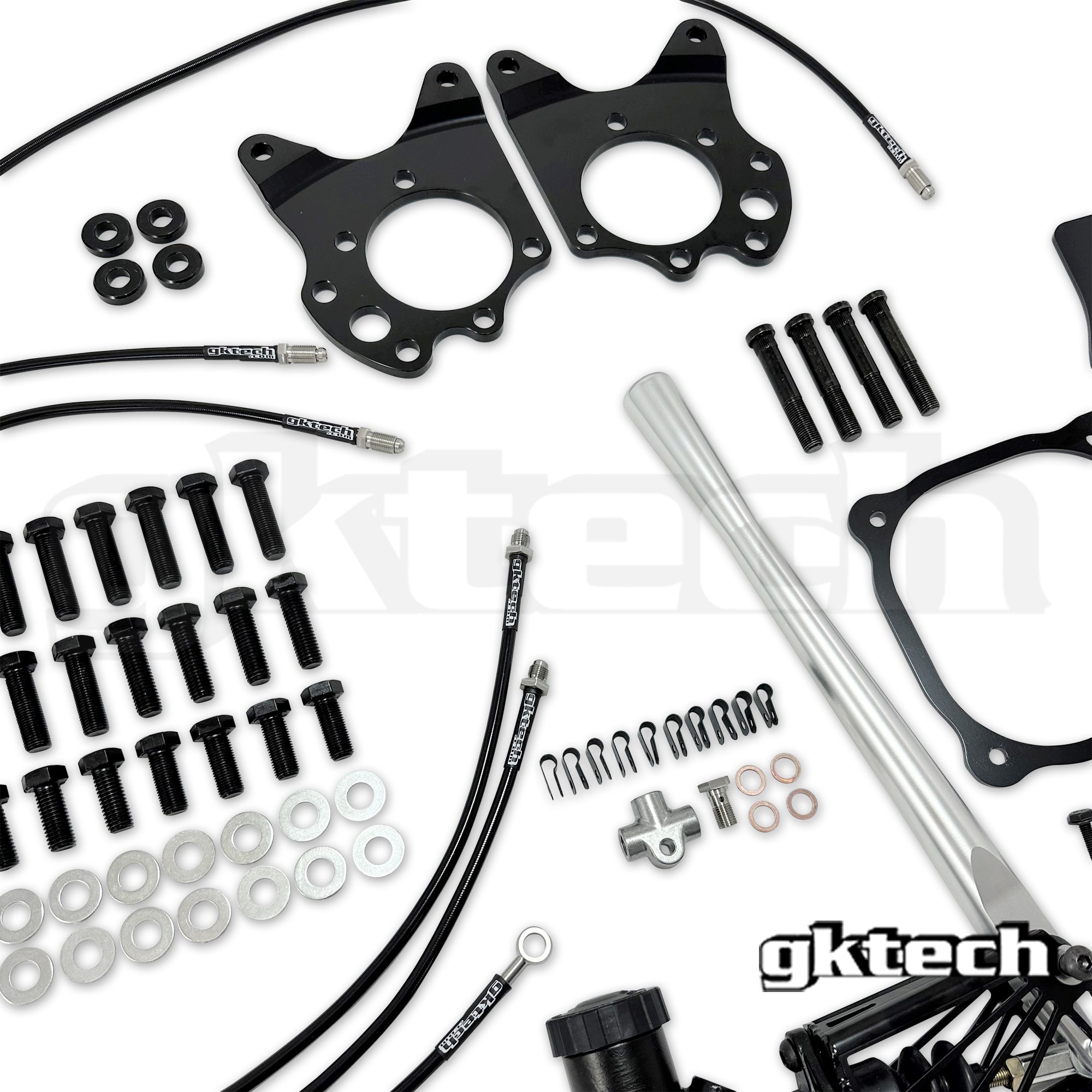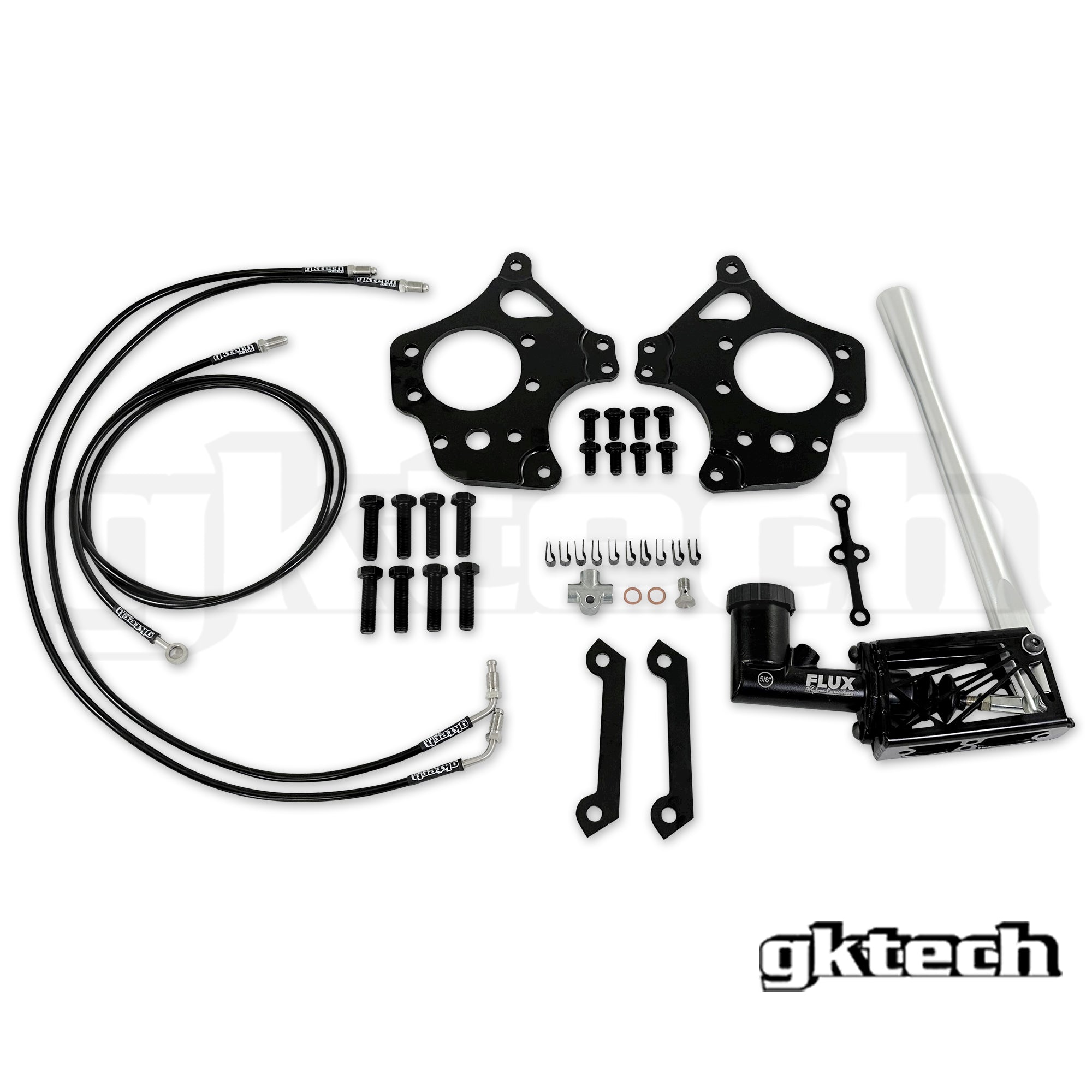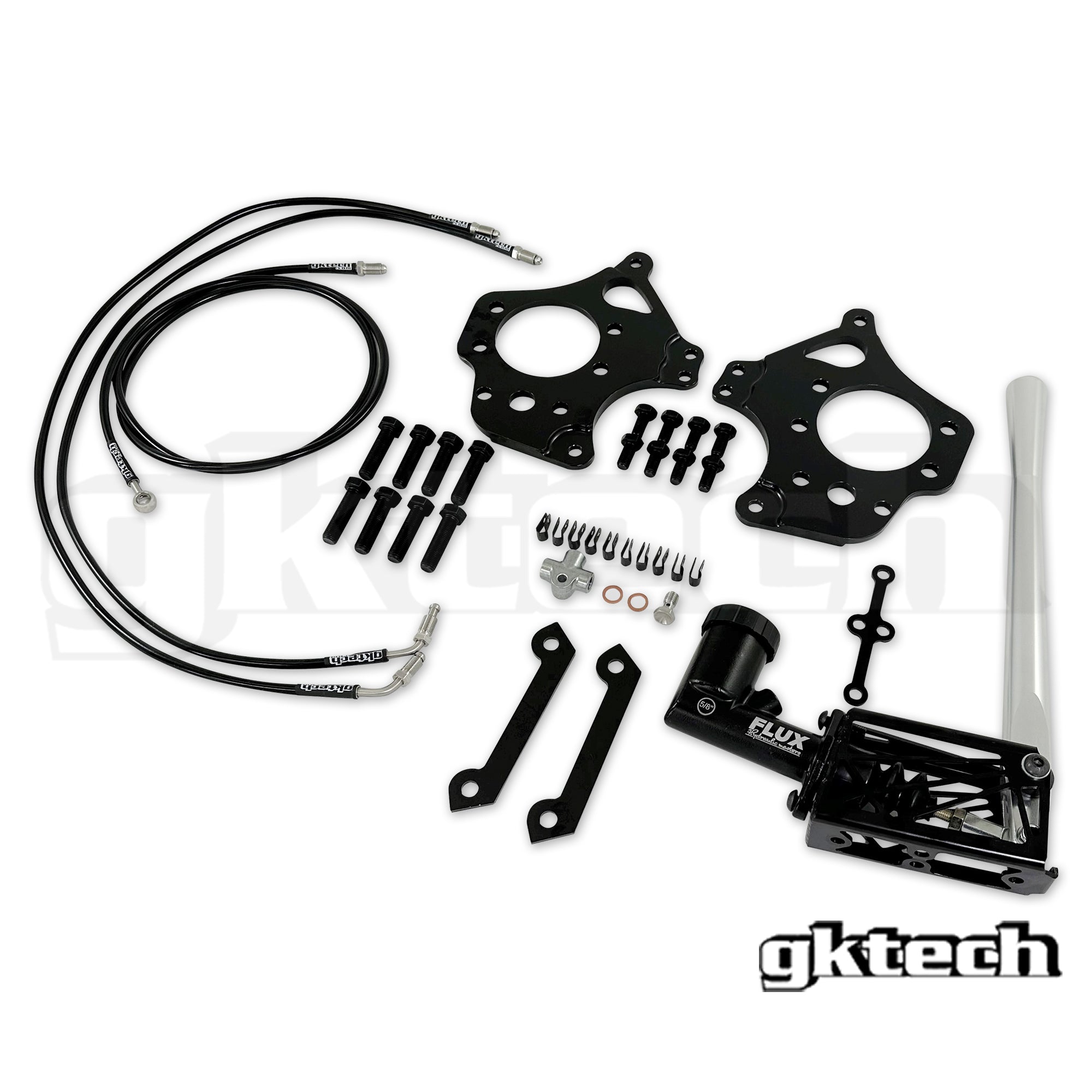 Infiniti G35/ Z33 350z hydraulic e-brake setup - (10% combo discount)
Q: What is backorder?
When a product is on backorder, it means that we have sold out and we are opening a back order due to popular demand. This is essentially a queue, when new stock arrives from production, we'll send your order.
Q: Will items in my order that are in stock be shipped out first?
We will send your order altogether once your backorder item is ready! You may wish to place separate orders if you want an item before the other is due back in stock.
Pickup available at Albuquerque NM
Usually ready in 24 hours
Infiniti G35/ Z33 350z hydraulic e-brake setup - (10% combo discount)
Albuquerque NM
Pickup available, usually ready in 24 hours
8524 Indian School Rd NE
Albuquerque NM 87112
United States
📦
Free Shipping on orders over $250
Checking Dispatch Times...
Nobody likes wasting time setting up a hydraulic e-brake kit!

If you want to avoid wasting time shopping around for all the individual parts, getting custom brake lines made up or running generic parts that may or may not work then we suggest having a look at our complete hydraulic e-brake kit.

This kit has everything you need to set up a dual caliper hydro e-brake in your car, just BYO calipers.

The contents:
E-brake assembly:
Self explanatory, this is the e-brake assembly that houses the lever and master cylinder.

E-brake handle:
This beautifully crafted CNC machined aluminium lever has been designed with ergonomics in mind whilst being aesthetically pleasing. Eg. it is comfortable and it looks good. Choose between silver, black, blue, pink, purple, red, orange, gold or neo chrome.
Master cylinder:
Choose between 5/8" and 3/4". For non Brembo calipers our recommendation is 5/8" and for the Brembo calipers we recommend the 3/4". More on that below in the FAQ's.


Chassis specific e-brake mount:
Our chassis specific e-brake mounts are designed to ensure that our e-brake assembly can be fitted in an optimal position without the need to cut or drill into your transmission tunnel. We have made 2 different postition variants in addition to LHD or RHD specific.
Inside trim = mounts inside/within the center console itself, this will require trimming to the center console for the levrer.

Outside trim = mounts outside the center console itself, no modifications required to the trim when used on either the left and right-hand side.

More info on the brackets can be seen here: https://us.gktech.com/z33-350z-car-specific-e-brake-mount

Note that our inside trim e-brake support base additional brace will not fit G35's. The base can be used on G35's but the optional support brace will not fit.
Braided lines:
Made in-house in Australia using stainless steel fittings and using stainless steel braided line with a PTFE outer these lines are made specifically to suit Nissan S/R chassis' and even include the P clips to locate the line throughout your vehicle.

Dual caliper brackets: Weld in or bolt on?
The GKTECH 350z bolt on dual caliper brackets feature CNC machined 6061-T6 aluminium and allow the use of Brembo calipers or the non Brembo calipers.
The brackets only space the hub out 8mm and do not require any modifications to fit and also allow the use of the drum e-brake.
If you are running aftermarket knuckles that already have the provision for dual caliper brackets (like our knuckles) then you don't need this bracket and it can be de-selected. We include extended e-brake studs, which are a unique product in themselves to us and ensures you have enough thread overlap on the nuts securing them down, due to being spaced out from the plate.

Alterntively, if you're a bit handy with a welder you can opt for the "weld in" dual caliper bracket. This option is cheaper and has the added benefit of not spacing the hub out. Not spacing the hub out = no need for axle spacers and it won't push your wheel out.
Axle spacers:
As our dual caliper bracket spaces the hub out 8mm this results in the driveshaft essentially being stretched that 8mm to compensate for the thickness of the plate. This can now be taken up with the use of an axle spacer.
We have different sized options available as it is also a good opportunity to select a different size axle spacer if you were running a different diff/driveshafts combination or have a very low vehicle.This can now be taken up with the use of an axle spacer. Available in 5mm or 10mm. 10mm is recommended when using the dual caliper brackets.

NOTE #1: We can only confirm fitment on our axle spacers with OEM Z33/G35 wheel bearings. Will not fit Z34/G37 and may not fit with aftermarket wheel bearings.

NOTE #2: Console version will require some trimming under the center console and require you to cut a hole for the lever.
NOTE #3: Inside and outside mounts refer to the position of the e-brake lever when using our mounting plates.

NOTE #4: Outside mount when used on the drivers side may have contact with the OEM seat when the seating position is close to the steering wheel, the OEM seat can still be used but can cause damage with prolonged use.
NOTE #5: Will NOT fit on automatic vehicles. The automatic tunnel differs to the manual tunnel.
FAQs
What calipers do I have to use?
Whichever calipers you have now, you need another set of the same calipers. Calipers can not be mixed between models. Ie. you can't run 1 Brembo caliper and 1 OEM Nissan caliper

Will this kit work with aftermarket knuckles?
These brackets are designed to be used with the OEM knuckles. They can NOT be used with aftermarket knuckles.

Will these work with any Wilwood calipers?
No sorry, the bracket has only been designed to be used with the OEM fitment calipers.

How do I know what size axle spacer to choose?
This kit comes with a bracket that is needed to mount the dual caliper bracket, this bracket goes between the hub and the knuckle.

By installing this bracket you are spacing the hub out 8mm, this is taken up by the driveshaft.

This causing the bearings inside the driveshaft to run on the edge of the cup, which can lead to premature failures.

We suggest adding axle spacers to put the stretched amount back into the driveshaft to ensure it runs further inside the cup and in turn is stronger and more reliable.

We recommend checking which size you need by jacking your car up and dropping it down on ramps, this will load the suspension to its normal operating height. From there, disconnect the diff to driveshaft bolts and with the driveshaft in a relaxed position measure the gap.

Keep in mind the distance of the plate that is supplied with this kit and factor that into the final number, that will tell you what size axle spacer you need.

How do I know which size master cylinder to choose?
The 5/8" master cylinder is proven on the Z chassis running non Brembo calipers, the lever feel with this master is balanced, having a longer throw to gauge feel while still efficiently locking the rear brakes. 

The 3/4" master cylinder is larger so when used in that same setup the lever feel will be more direct, firmer, and require less throw to lock the rear brakes. If you are running larger brakes such as the factory Brembos and or a larger wheel/tire setup and do require a bit more bite, we would suggest the 3/4" master cylinder.
VEHICLE COMPATIBILITY
Nissan
Z33 350Z

Infiniti
G35 SKYLINE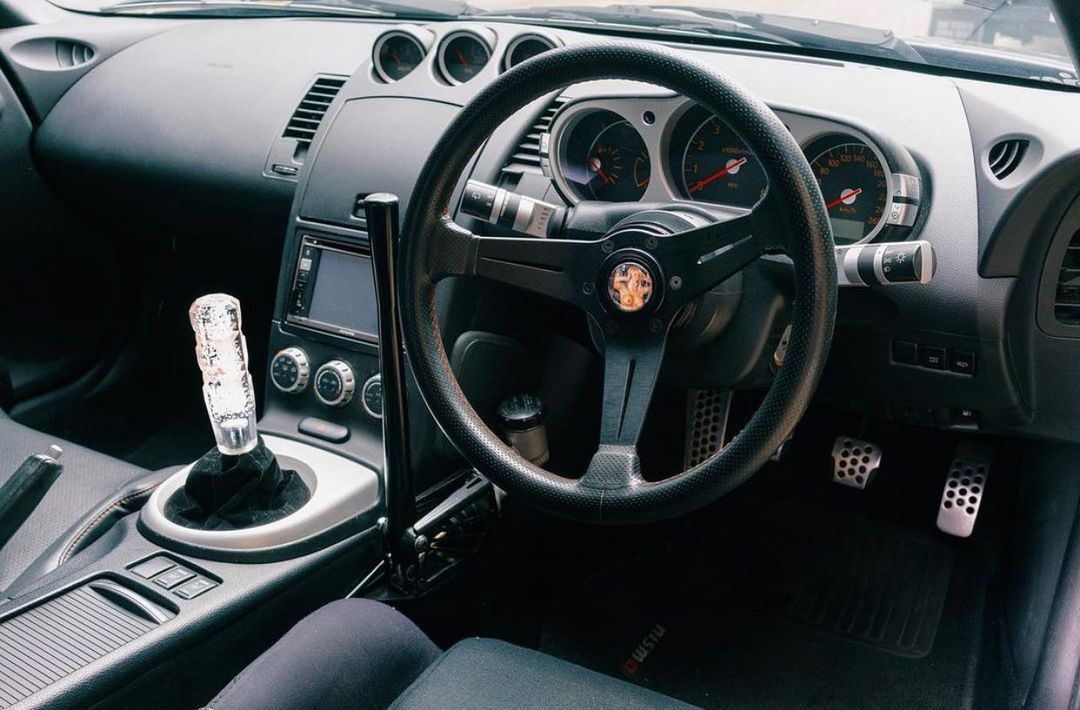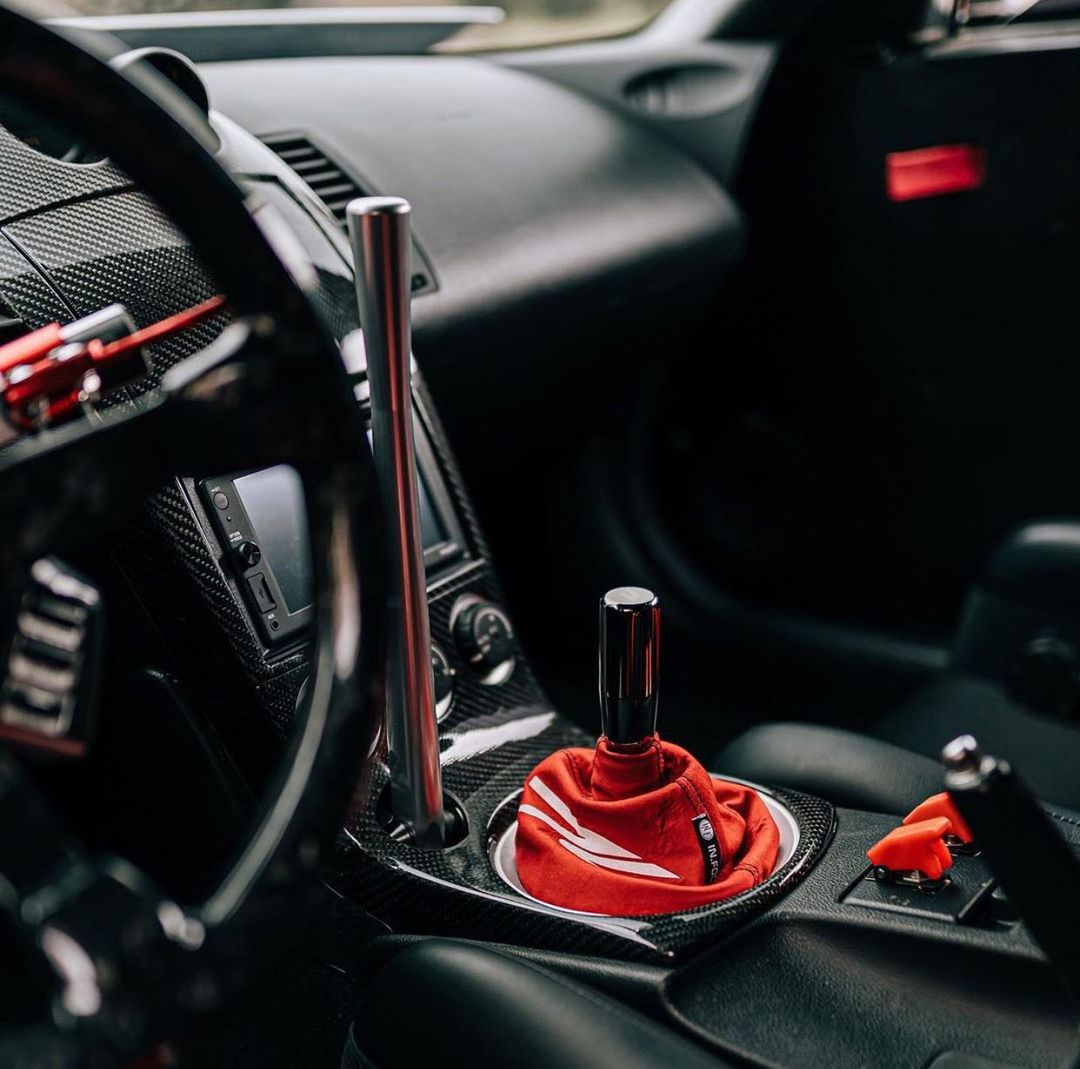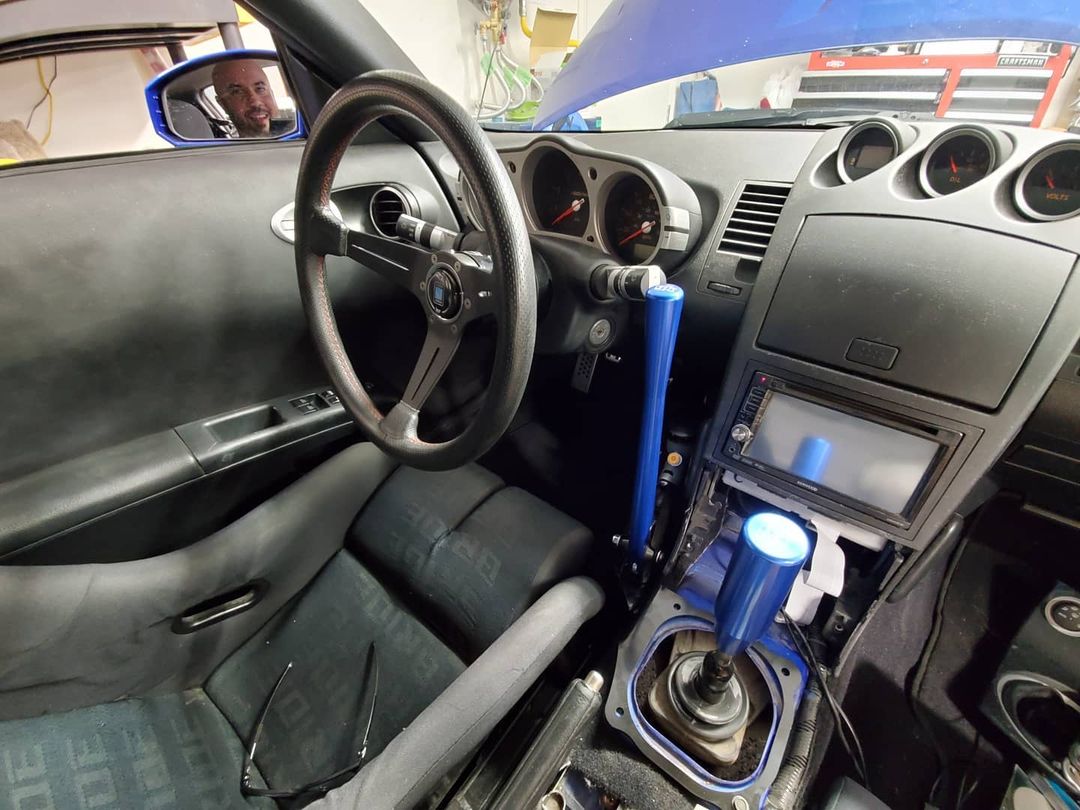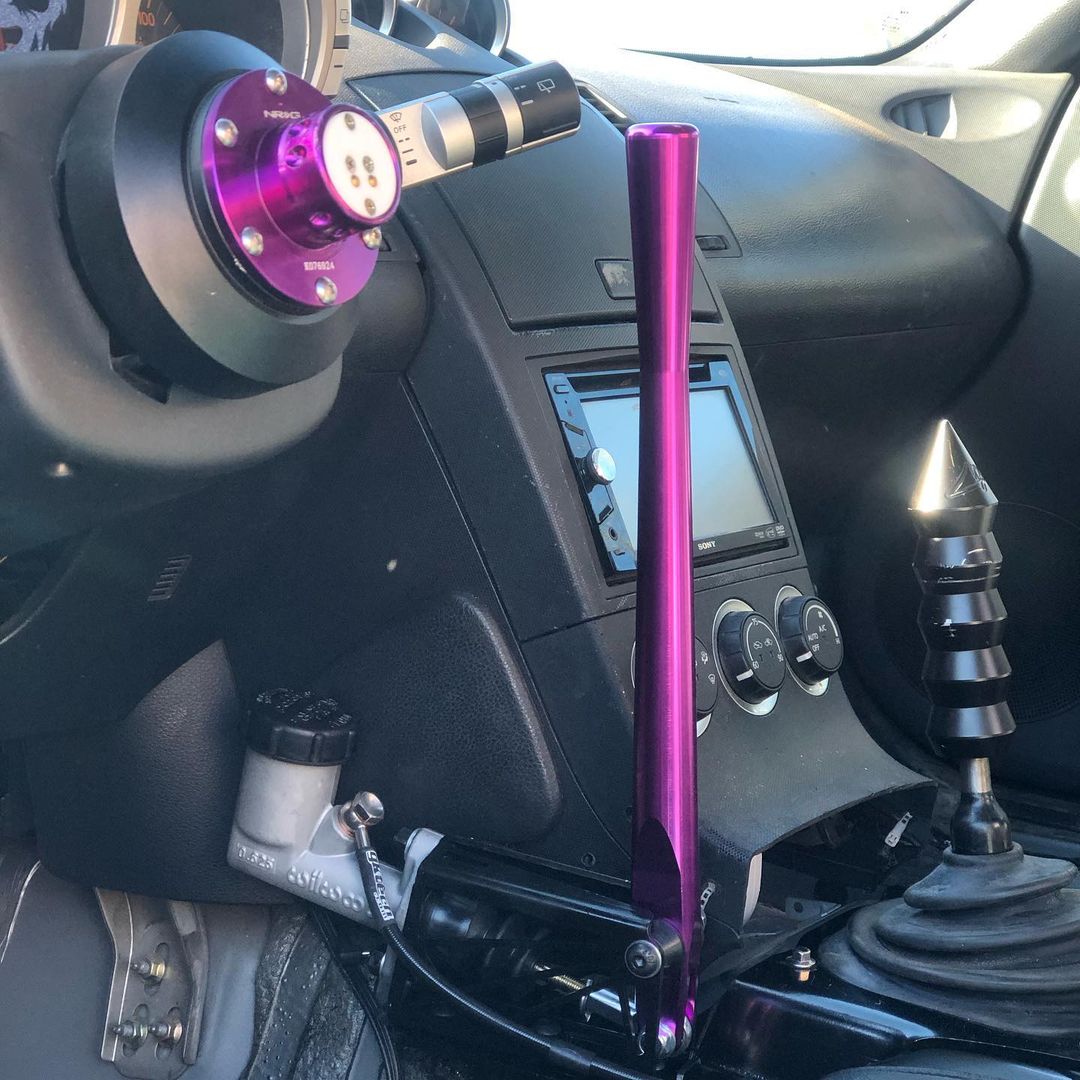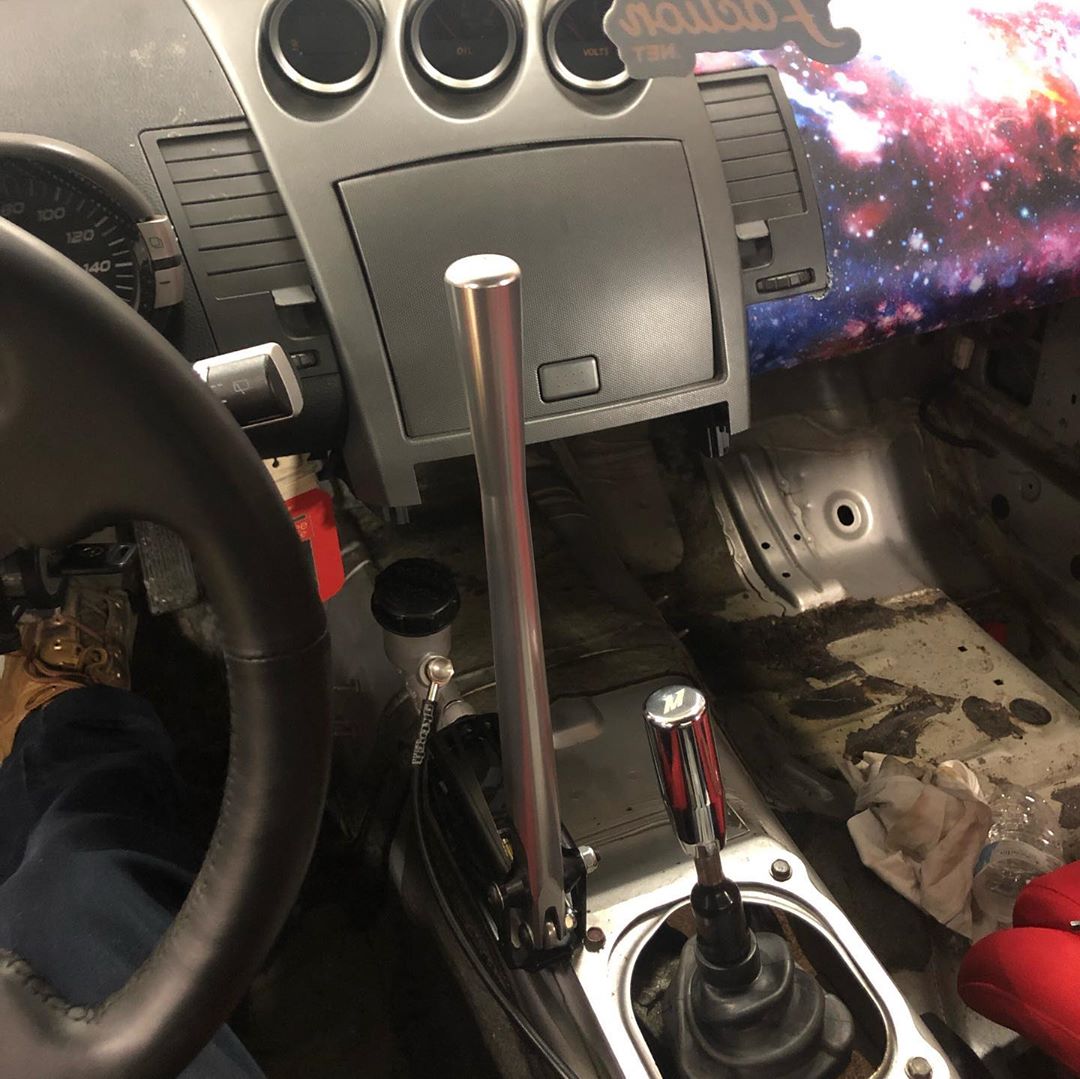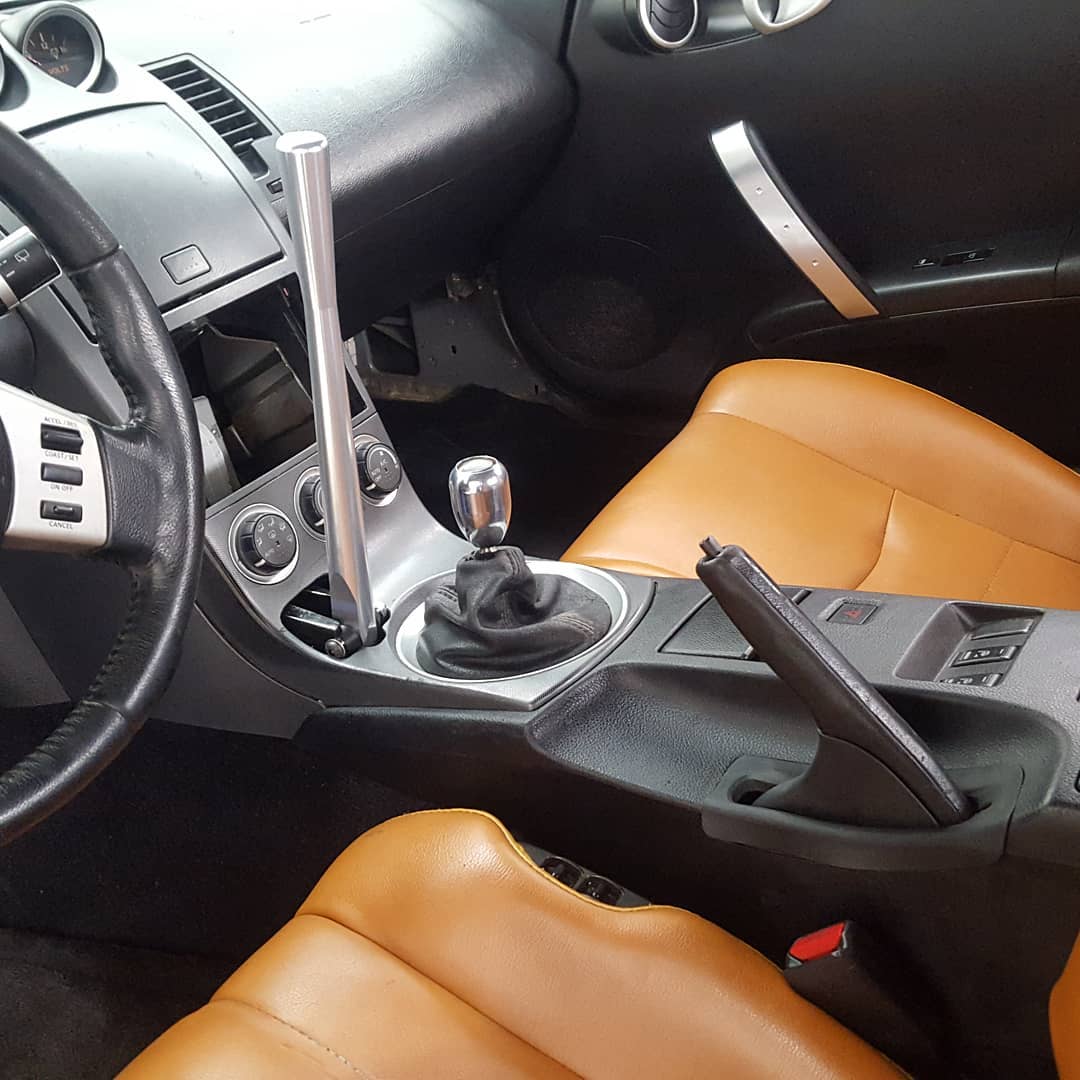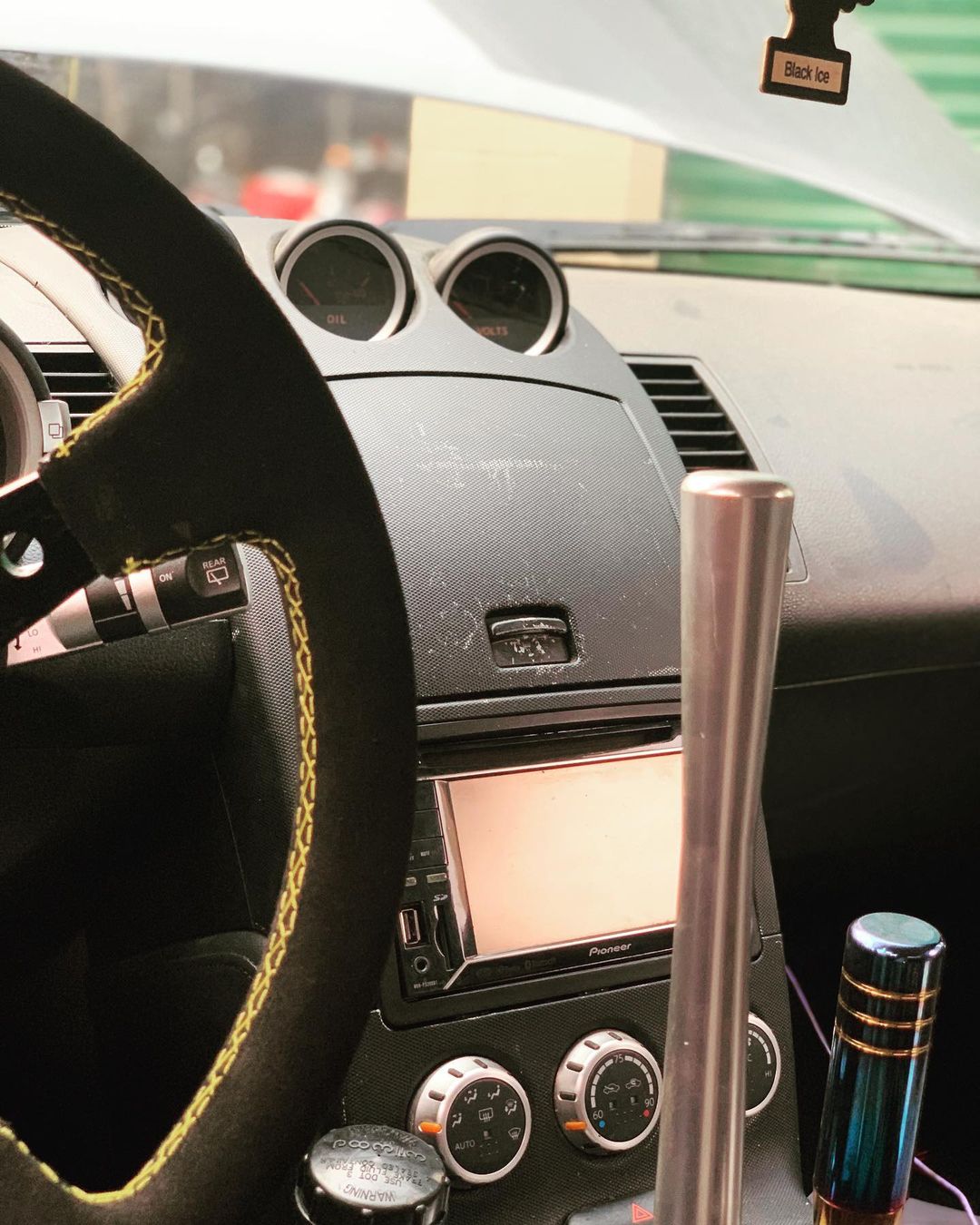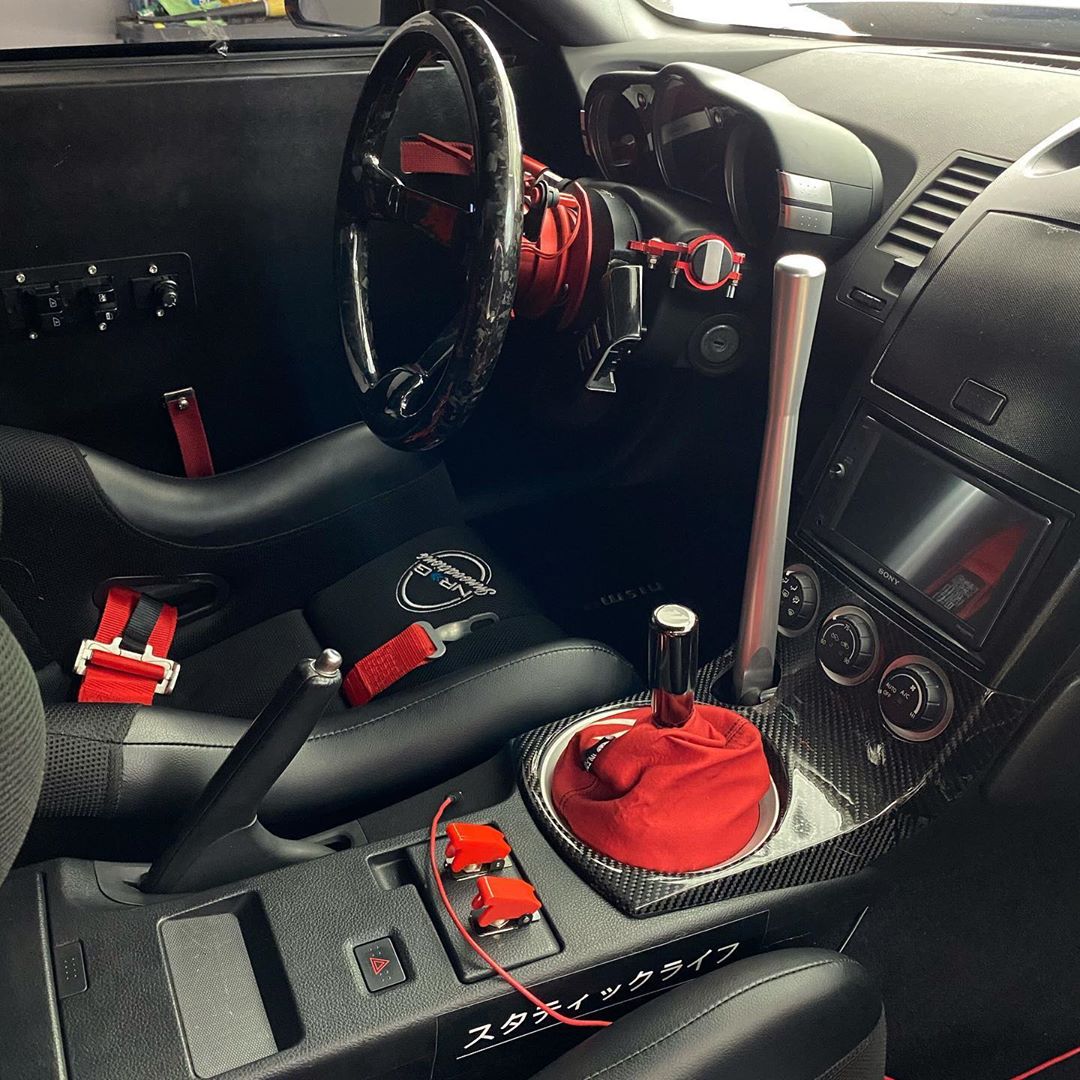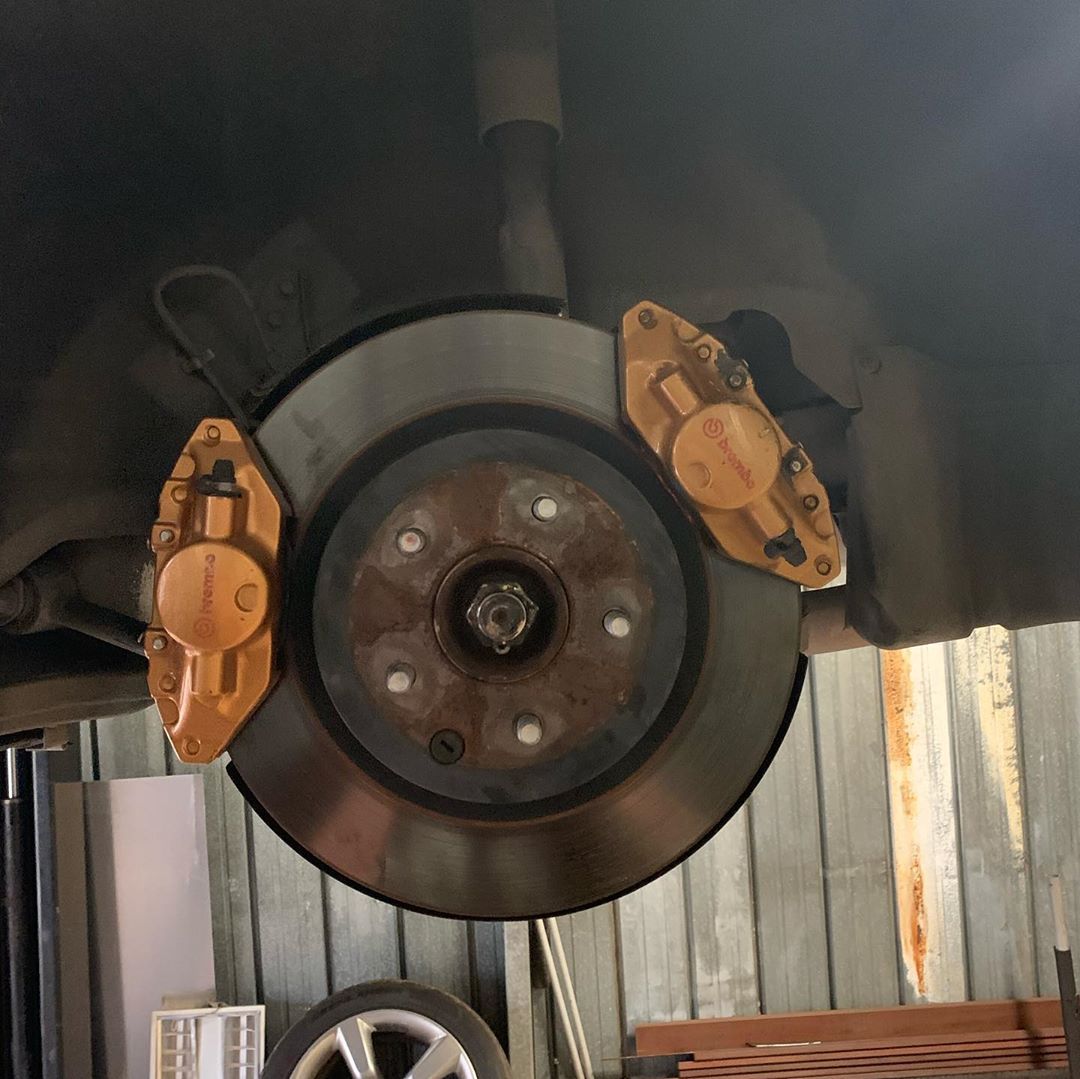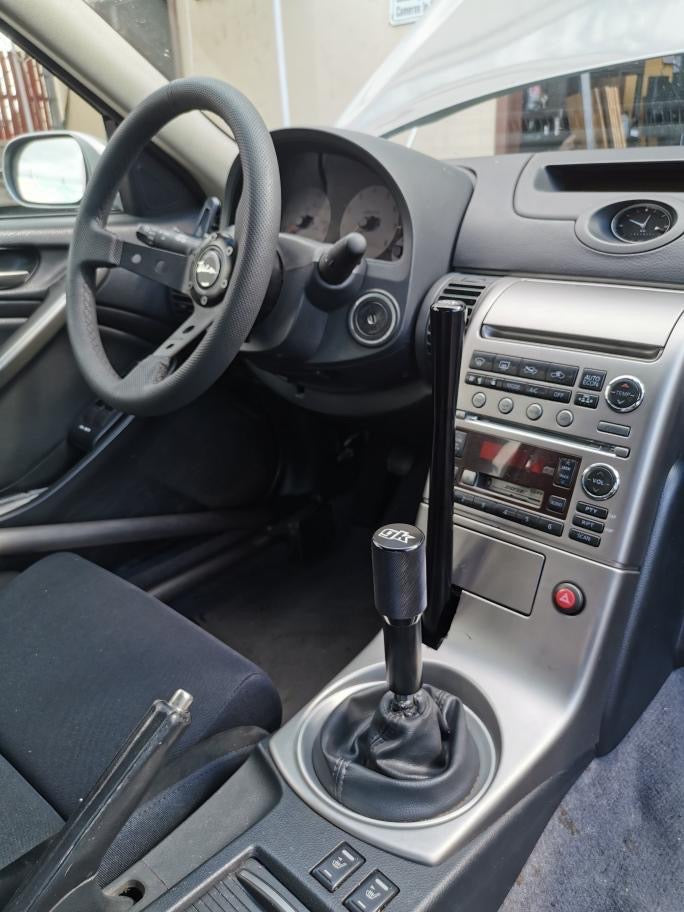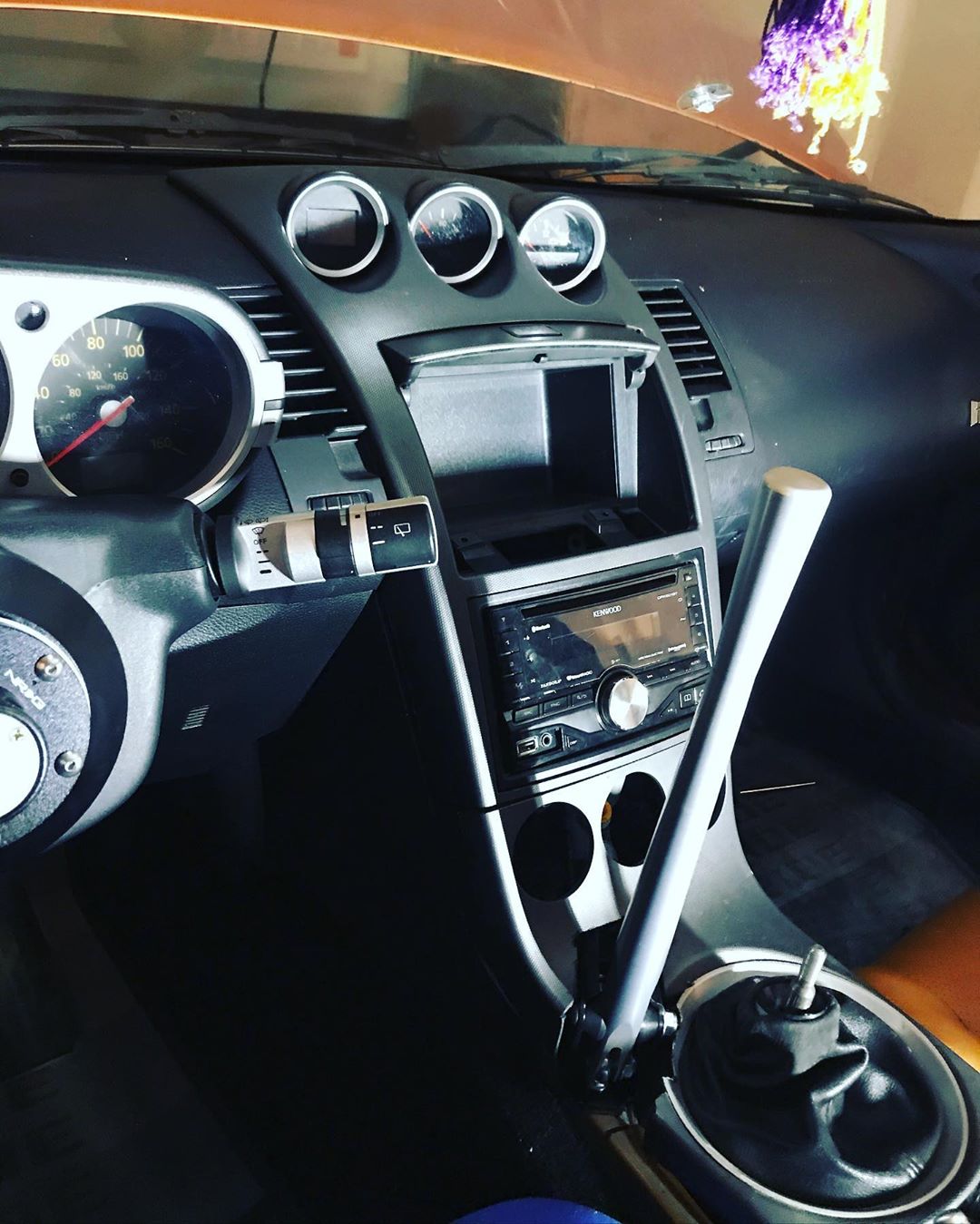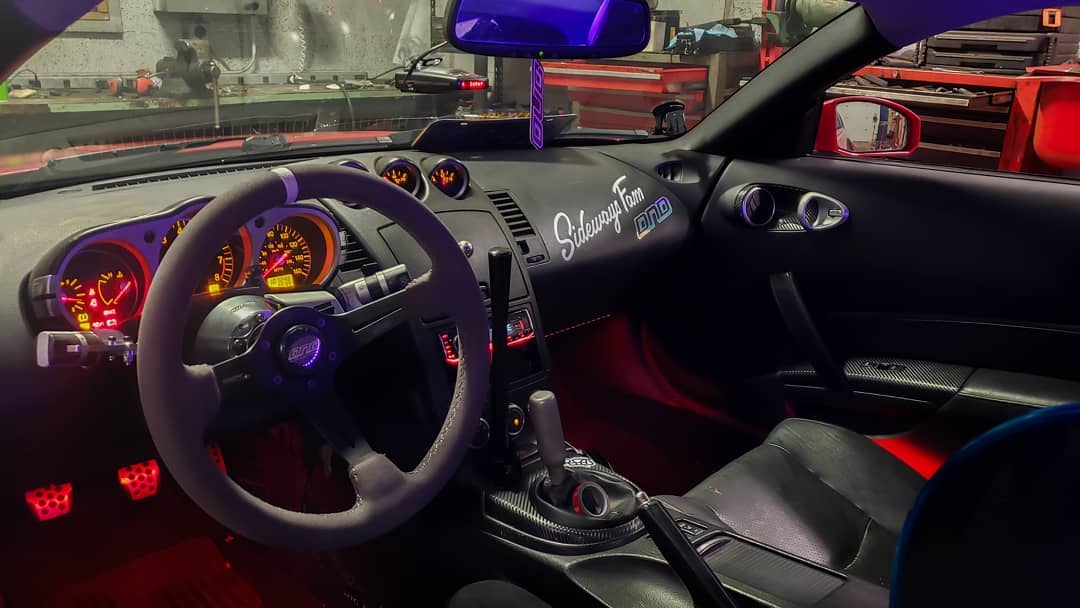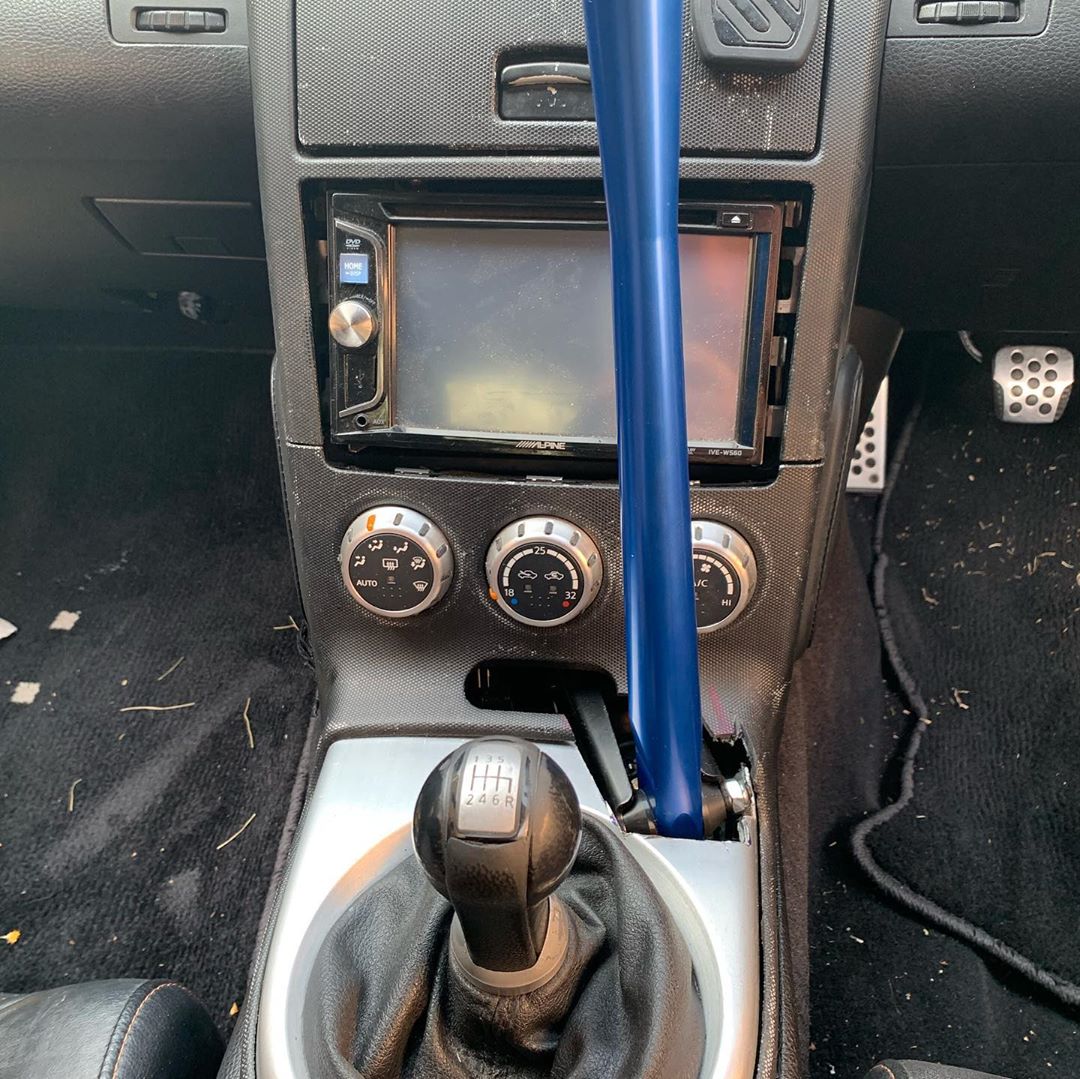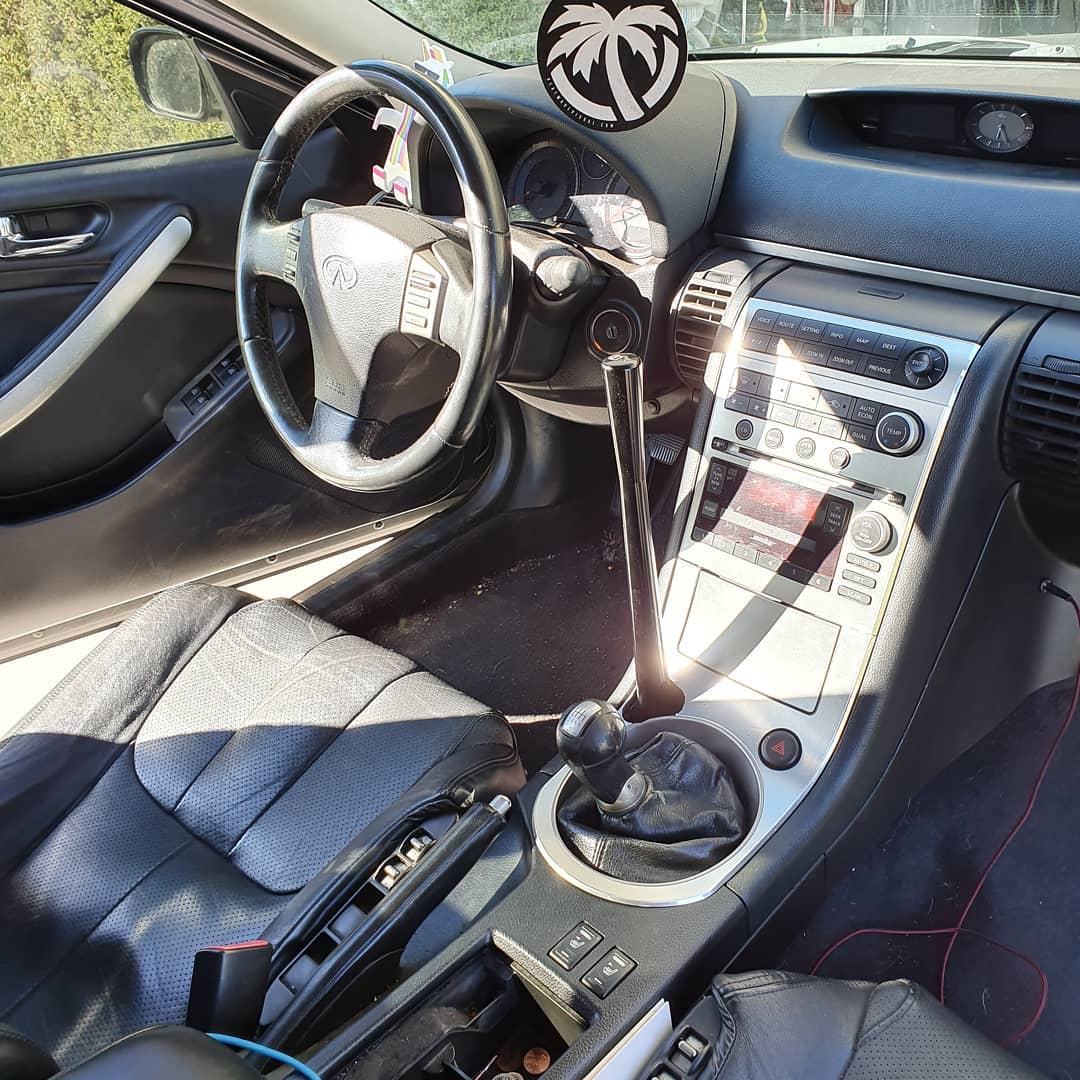 Hand brake 350z
Love the hand brake!! Install was great, would like to see the brake lines a few inches longer. Overall very nice product!!! Ps. need a sponsorship
Super clean installation
This is my first hydro ebrake and it was not fun to install but I am pleased with the location of where it sits and the functionality of it. Mine is the hidden setup, which they don't mention that you need to relocate the A/C module (white box) if you want to keep the A/C. Other than that I'm super pleased with my purchase!
Good stuff
Real good quality good price, def highly recommend them!
Dual Caliper Hydro Kit
Great kit at an amazing value. Plus the install videos on youtube show every single step witch makes it super easy to install. My only complaint is for the g35 coupe the main line from the master to the T could be just a little longer, I was not able to get it tucked under the carpet but it works completely fine and is only noticeable in the one spot. Still highly recommend!
Good, just don't get the 3/4
Everything is great quality. Easy to install, everything lines up perfectly. My only complaint is that I have brembos, and got the 3/4" master cylinder based on gk's recommendation on this page, but DO NOT get the 3/4, it is absolutely worthless. Tried everything, and the best it did was barely lock up the wheels in a straight line when assisted by the foot brake. Finally swapped out for a no name 5/8 master, didn't even bleed it properly, and it locks up so much better. Would've been 5 stars if I didn't waste all that time.