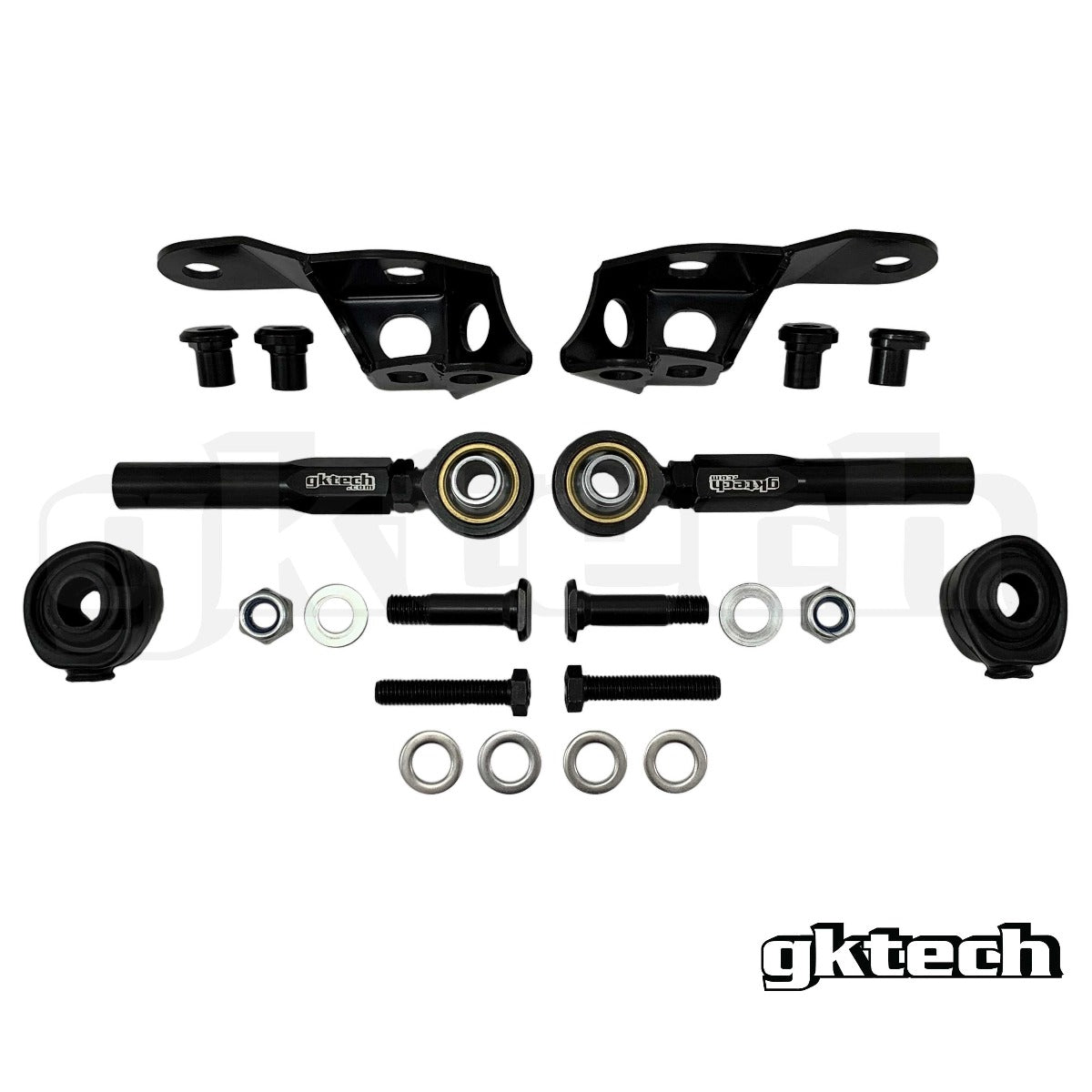 Z34 370z/G37 Super Lock Angle Kit with ackerman adjustment
In stock
Q: What is backorder?
When a product is on backorder, it means that we have sold out and we are opening a back order due to popular demand. This is essentially a queue, when new stock arrives from production, we'll send your order.
Q: Will items in my order that are in stock be shipped out first?
We will send your order altogether once your backorder item is ready! You may wish to place separate orders if you want an item before the other is due back in stock.
Pickup available at Albuquerque NM
Usually ready in 24 hours
Z34 370z/G37 Super Lock Angle Kit with ackerman adjustment
Albuquerque NM
Pickup available, usually ready in 24 hours
8524 Indian School Rd NE
Albuquerque NM 87112
United States
📦
Free Shipping on orders over $250
Checking Dispatch Times...
The GKTECH Z34 370z/G37 angle kit is a simple, lightweight, yet super effective bolt on steering kit.

It is a bolt on kit, meaning it can be fitted and removed with no permanent modifications other than the trimming of the factory lock stop if you wish to.

With 33% faster steering these are suitable for both the dedicated drift cars whilst working equally as well for a grip/street car looking to speed your steering up.
If you own one of these vehicles, you would know the OEM steering angle on the Z/G chassis sucks! We measured them to having around 37 degrees lead wheel and even less trailing. This kit will allow you to get around 60 degrees of lock lead wheel and with adjustable ackerman you can acheive near parallel front steering.

- 33% faster steering
- Adjustable ackerman
- Circa 60 degrees of steering lock

With months of testing prior to release from all around the world including one of the worlds best Luke Fink here in Australia, Formula Drift judge Robbie Nishida in Japan and Takeshi Teruya in New Zealand! To see more of what they had to say you can check out their YouTube video's below showing the simple install process and first impressions:

Luke Fink
"This car feels so much better, I can do whatever I want now. It's so much more snappy and almost S chassis like!"
https://www.youtube.com/watch?v=OAGXFk7dZSU&t=96s

Robbie Nishida
"The angle kit makes a big difference! I can hold deep angle for a good amount of time, and the ackerman feels really good. You need one of these cars!"
https://www.youtube.com/watch?v=ktBLdvofTjs&t=1111s

Takeshi Teruya
"My V36 is much fun to drift with this lock kit! Ackerman is a good match for a big fast entry and nice flow track layout, can also be for a snappy transition!"
https://www.youtube.com/watch?v=gJOkFbNZgos
FAQs
Does installing this kit require a wheel alignment?
Yes, it alters both toe so a wheel alignment will be required after installation.
Will this fit my car?
We can only confirm fitment for the vehicles listed above under "vehicle compatibility". If your car is not listed there, then we don't know if it will fit.
Is there anything else needed for installation?
There is not, however, in terms of the kit itself it will arrive as shown in the product photo.
Can I install this myself? If so how long will installation take?
Yes, provided you have general mechanical knowledge as they are relitively straightforward. Installation time should be around 30 minutes. However, being a suspension component we recommend only a trained professional to install this product.
Am I going to have any problems with an increase in lock with this steering kit?
Being that the steering kit increases steering angle and changes the ackerman this in turn may cause a light to appear on the dash along with the engagement of VDC.
To circumvent this, we recommend to bypass the factory YAW sensor or you can unplug it entirely.
Note that disabling the YAW sensor may not be legal for road use, please contact your local RTA if this is a concern for you and or effects your intention of use.
Do I need to use steering rack spacers?
You do not. This steering kit does not require the use of a rack spacer (either offset or non offset).
Are there any special tools required?
No, a spanner set will do the job which we do sell
separately here -
open ended wrenches
Do you carry spare parts for this product?
Yes we carry the following spare parts for this product;
Replacement Pcyml10Ts Tie Rod End Heim -
Spare part can be found here
VEHICLE COMPATIBILITY
NOTE:
Infiniti G37 Coupe (2008-2013) (RWD only)
Infiniti G37 Sedan (2009-2013) (RWD only)

Nissan
Z34 370Z

Infiniti
G37 SKYLINE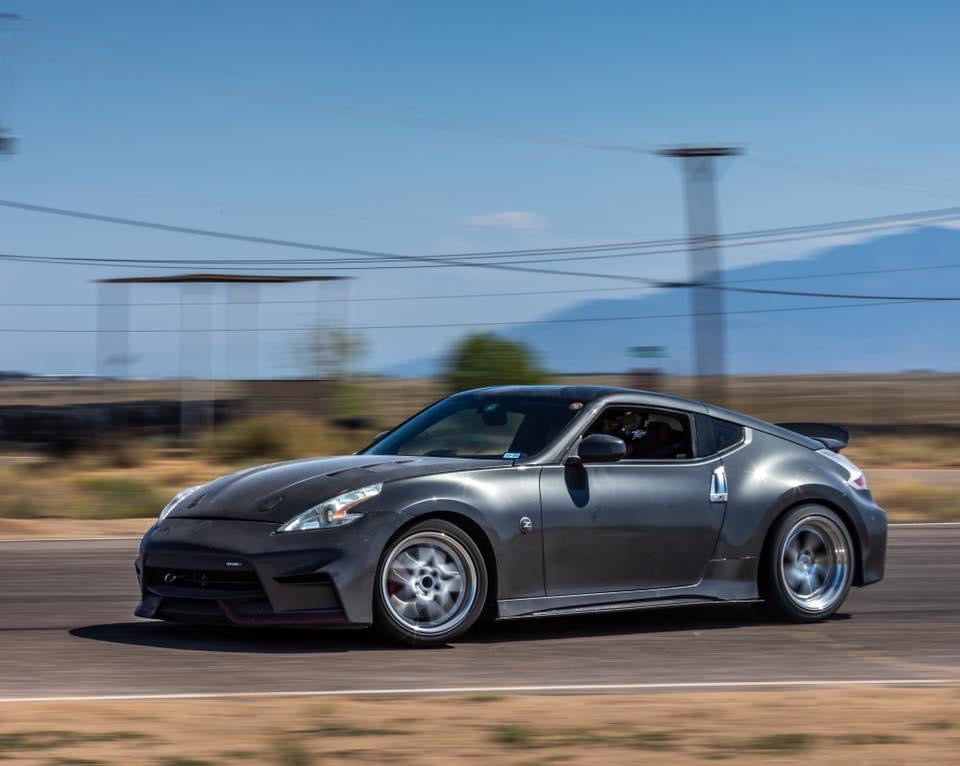 Little work big gains
Bought second hand from a friend. Only took an hour or so to install and the entire kit is insane. The snappiness to the steering is amazing and the angle is crazy for a bolt on kit that took such little work. I do recommend you modify or adjust your brake rotor dust shields, as the brackets seem to push them into your rotors causing a screeching sound. The suspension itself will be more noisy, of course.
Also, you can still fit massive wheels up front. 19x10.5 +12 with a 3mm spacer and -2.5° camber with no rub at full lock. Can't wait to get it aligned and have fun with it.
Highly recommended
I highly recommend anyone involved with drifting in any level pro or amateur to be purchasing ever single thing you need for you car from these guy they are very professional with there parts and top customer services + installations video nailed it.
About the angle kit for the 370z it fits like a butter and really did expect that i could have the street daily alignment with so much angle.it a win win guy.
Keep up the good work guys.
Pls buy this
It's been amazing went to my 2nd drift event and steering is way more snappy and the angle is amazing for just a bolt on
370z Lock kit, cold air intakes, full dual caliper kit
Items were received in a timely manner. The items that were on back order were shipped and received as stated on the website. Items came nicely packaged and exactly as advertised on the website. Easy to install, and they offer great install vids in the event you get hung up on the process.
Great Angle - Not ideal for a Daily Driver.
Easy install, great instructions and video for install. one heim joint came with some damaged threads which they sent out a replacement the day after contacting them.
Installed on a Stock G35 RWD Sport Sedan. Front tire rubs on the sub frame at full lock. Fairly easy to align.
The only downside I have about this item is that I have to turn traction control off when driving - Otherwise the ABS system triggers when making turns.
Being a Nissan Master technician I took a look with the OEM scan tool - From what I can figure out the issue is that the steering angle sensor is expecting a specific difference of speed from the front wheels when turned but with the extra angle there is more of a difference than expected and engages ABS because it is thinking you are sliding.
The only think I can think to change is to flip the Akerman bolt to see if that would help
While on the Highway it does not trigger ABS only when making turns in the city. So I will turn off TC while driving in town and then turning it back on once on the Highway so I can use cruise control..