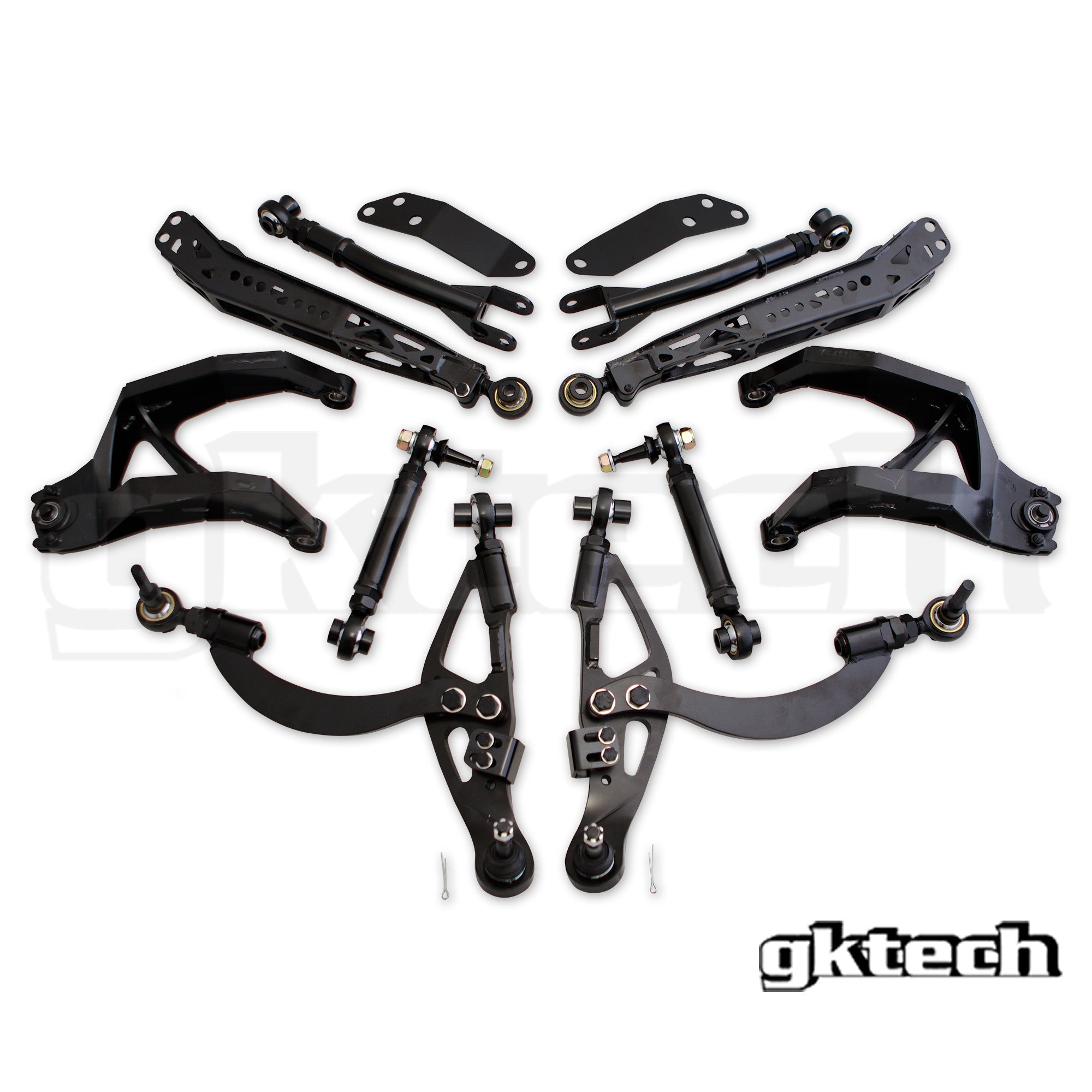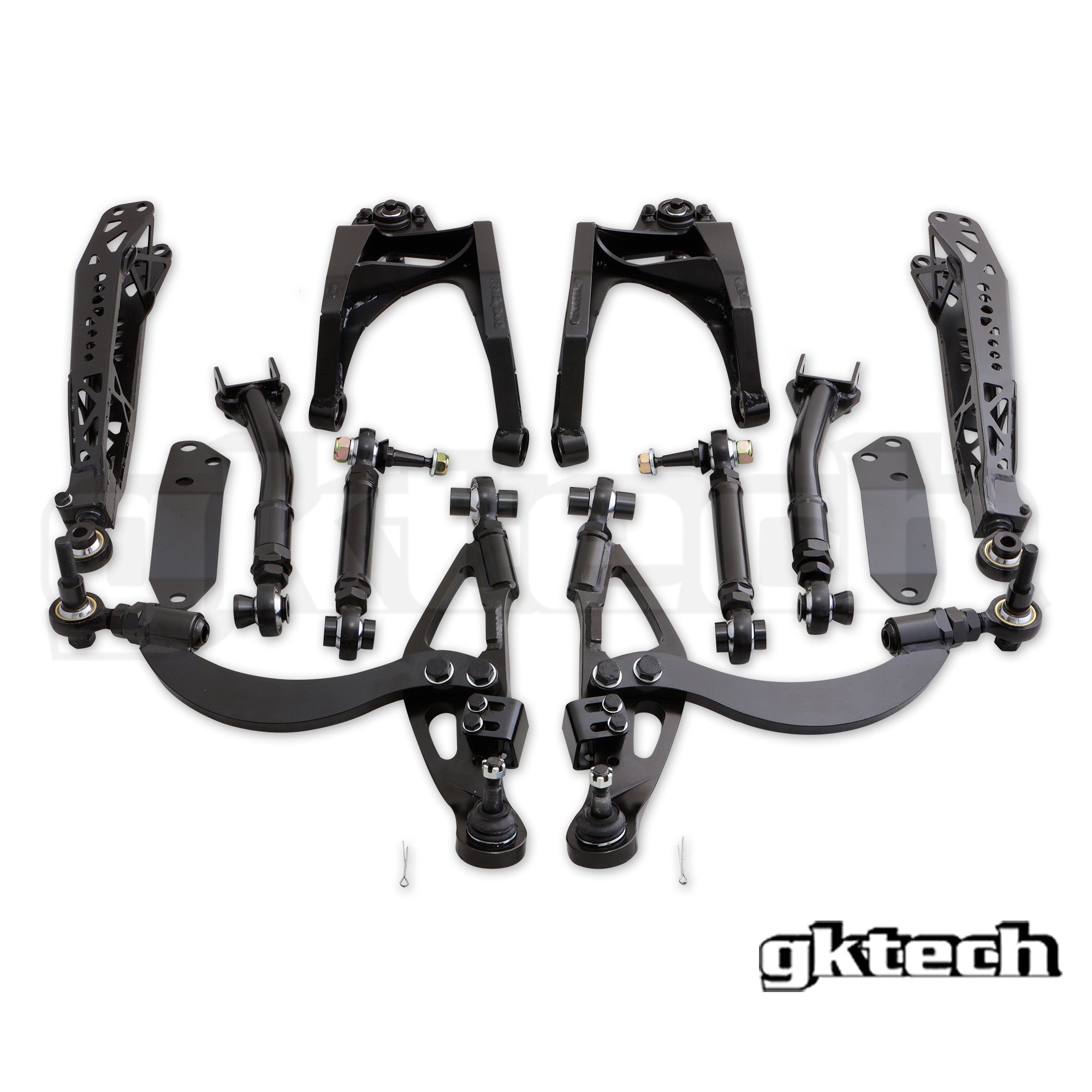 FRS / GR86 / BRZ SUSPENSION ARM PACKAGE (10% COMBO DISCOUNT)
Q: What is backorder?
When a product is on backorder, it means that we have sold out and we are opening a back order due to popular demand. This is essentially a queue, when new stock arrives from production, we'll send your order.
Q: Will items in my order that are in stock be shipped out first?
We will send your order altogether once your backorder item is ready! You may wish to place separate orders if you want an item before the other is due back in stock.
Pickup available at Albuquerque NM
Usually ready in 24 hours
FRS / GR86 / BRZ SUSPENSION ARM PACKAGE (10% COMBO DISCOUNT)
Albuquerque NM
Pickup available, usually ready in 24 hours
8524 Indian School Rd NE
Albuquerque NM 87112
United States
📦
Free Shipping on orders over $250
This listing is for the 5 main adjustable arms being the front lower control arms, rear lower control arms, rear upper camber arms, toe and traction arms.

We are offering these as a package deal which comes at an additional 10% off our listed price for the items when sold on their own.

FRONT LOWER CONTROL ARMS

The front lower control arms simplify, improve and replace the front lower control arm and caster rods on the FR-S / GR86 or BRZ, while also supporting around 65+ degrees of steering lock.

They are CAD designed, FEA tested, have CNC machined ends and the main body is laser cut and bent from 4130 Chromoly Steel. Adjustable, with 2 different length options; OEM length and adjust out to +30mm from OEM or; +40mm through to +70mm over OEM length.
For more information
us.gktech.com/products/86-gr86-brz-front-lower-control-arms

 
REAR LOWER CONTROL ARMS

Our on car adjustable Rear Lower Control Arms (RLCA's) allow for 55mm of track adjustment, motion ratio adjustment and can be used to lower your car 25mm.
Adjustable rear lower control arms allow adjustment of the rear multi-link suspension. Typically, adjustable LCA's can be adjusted to alter camber however we have incorporated some extra features.

For more information
us.gktech.com/products/86-gr86-brz-rear-lower-control-arms-rlcas
 
REAR UPPER CAMBER ARMS
Our upper camber arms allow adjustment of the upper arm, fixing the issue of camber change when lowering the vehicle. As well as eliminating the OEM rubber bushes, which allow zero flex and have zero chill when in operation. These are replaced with super smooth spherical joints, allowing the arm to operate on its correct pane! Our design is unique in that the arm can be adjusted insitu and there are no rod ends in bending. 

Designed with the MOST amount of driveshaft clearance, a common issue found when using rear drop knuckles on these cars! 

For more information
us.gktech.com/products/gt86-ruca

 
REAR TOE ARMS

Adjustable rear toe arms give you the ability to adjust and tune your vehicle's rear toe.

The lengths on these rear toe arms are fully adjustable to your specs when doing an alignment and with the right adjustments, straight line and cornering of your vehicle will be improved.

For more information
us.gktech.com/products/zn6-86-brz-rear-toe-arm
 
REAR TRACTION ARMS + TRACTION MOD
The  traction mod + arm combo is a great way to gain more traction under throttle. Our combo includes an easy to bolt on double sheer relocation bracket in addition to an adjustable traction arm to fine tune your alignment.

Rear traction rods allow adjustment of the rear multi-link suspension. They can be adjusted to eliminate bump steer and alter other rear suspension traction settings to improve suspension response.

For more information
us.gktech.com/products/86-gr86-brz-traction-mod-arm-combo
FAQs
Will these fit my car?
We can only confirm fitment for the vehicles listed above under "confirmed fitment".
How long is the warranty on these arms?
All GKTECH suspension arms come with a lifetime warranty against manufacturing defects.
The Teflon lined heim joints come with a 1 year replacement warranty.
We stock spare bearings so even after the 12 months is up we can still help with replacements, worse case scenario they're a 5/8" heim joint and are readily available through your local autoshop.
Are these suspension arms legal for use on street cars?
We recommend that you contact your local RTA for clarification/confirmation. Whether you use a suspension arm with a heim joint on public roads is at your discretion.
Are there any special tools required?
No, a spanner set will do the job which we do sell separately here -
Wrenches
VEHICLE COMPATIBILITY
Scion
FRS ZN6

Subaru
BRZ ZC6
BRZ ZD8

Toyota
GR86 ZN8
GT86 ZN6